Biography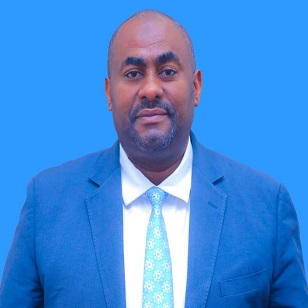 PERMANENT SECRETARY
Mr. Saidi Othman Yakubu
Mr. Saidi Yakubu is a high-level executive in the United Republic of Tanzania currently serving as Permanent Secretary of the Ministry of Culture, Arts and Sports.
His career in the last 22 years has been in Parliament, Media, Legal and Governance.
He has worked at the BBC World Service as a London Correspondent for BBC Swahili Section before relocating to Tanzania where he joined Parliament of Tanzania where he rose through the ranks to become Head of Speakers' Office.
In Parliament he was also Deputy Regional Secretary for the Commonwealth Parliamentary Association (CPA) – Africa Region responsible for
Inter - Parliamentary Affairs of the 63 Branches of Commonwealth Parliamentary Association in Africa with close working collaboration with the CPA Headquarters and the House of Commons' CPA Branch both in United Kingdom as well as other Commonwealth regions across the globe.
He has worked as a Consultant for the CPA HQ in several Parliamentary thematic topics and has recently authored a module "LEGISLATIVE PROCESS IN THE COMMONWEALTH" which is taught online for all Commonwealth Parliaments.
After 13 years in Parliamentary Service, Mr. Yakubu joined Civil Service and worked as Head of Legal Services Section of the Institute of Accountancy Arusha (IAA) where he was also Secretary of the Governing Council.
Mr. Yakubu was appointed by Her Excellency President of the United Republic of Tanzania Samia Suluhu Hassan as Deputy Permanent Secretary at the Ministry of CultureArts and Sports and a year latter he was appointed Permanent Secretary responsible with providing leadership to the most high-profile social sector in Tanzania and tasked with overseeing implementation of policies in the said field.
He is also charged with oversight supervision to 8 Parastatals and over 100 stakeholder associations, federations and organisations and management of over 1000 staff with a budget of over 20m USD.
He has also been instrumental in forging links with international partners in the said fields such as Southampton Club which trained girls U-17 National Team prior to their participation in the World Cup.
Under his leadership the Ministry has also hosted international events such as Annual General Meeting of Confederation of African Football (CAF) and African Union Sports Council Regional IV Conference which also resolved to make Tanzanian the Secretariat Headquarters.
He is currently one of leaders of the AFCON 2027 Bid Team jointly pursued in collaboration with Kenya and Uganda.
Mr. Yakubu has a degree in Law and a Masters in Corporate Governance, he is an Advocate of High Court in Tanzania and is a Fellow of the Chartered Governance Insitute of United Kingdom.
He is a recipient of several awards including Presidential Recognition Merit for Serving in the Constituent Assembly 2014, Outstanding Contribution and Diaspora Role Model 2013 and others
He is married to his best friend Dida and they are blessed with 4 children.